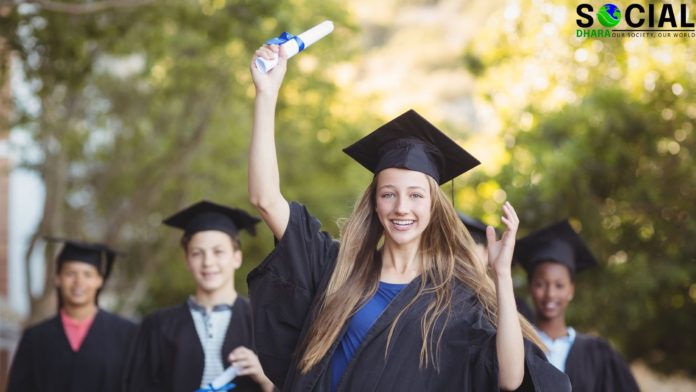 Education is termed as the panacea of all evils. Education and an educated society are the backbones of a country where students are supreme assets. Swami Vivekananda says 'Education is the manifestation of perfection already in men'.
In other terms, education can be defined as a process of learning and acquiring knowledge, skills, values, and disciplines for the overall development of a person. Education is provided to the students at educational institutions. These institutions and teachers plays important role in the development of a student.
Education is one of the most important factors to a person's success in today's society. This helps directly or indirectly in poverty alleviation, economic growth, healthy lifestyle, and creating better livelihood opportunities in the society. Education opens economic opportunities globally. A person belonging to a financially weaker section can avail of various supports from private and government institutions for their education. Thus, a person can become advance educationally which leads to financial development.
"Education is the passport to the future, for tomorrow belongs to those who prepare for it today." - Malcolm X
Impact on Education during Covid-19 Lockdown
Education is a badly affected sector for students, teachers, and institutions due to the pandemic. Globally, most of the countries declared lockdowns where educational institutions were not exceptional. All institutions viz. schools, colleges, and universities were shut down in consequence of coronavirus. The report is that over 1.2 billion children in 186  countries were affected due to the pandemic.
The educational institutions had to search for alternate options. Consequently, the online education system came into existence. The already existed digital platforms and applications played a key role in the continuation of education. For students who owned digital gadgets, they found online classes enjoyable. But for some students who didn't have a smartphone, computer, TV, or radio at the home suffered in attending online classes. There was another issue i.e. internet accessibility because, in developing countries like India, where the rural population is over 60%, they don't have a proper internet connection.
Also read: Top 10 Online Learning Platforms
The children from rural areas were badly affected due to lockdown. Primary school children were given Mid-day Meals on normal days but were not possible in the lockdown period. This could have affected children in their health and nutrition.
Right to Education Act 2009
The Right to Education Act came into force in 2010. This act talks about free and compulsory education for children between the age group of 6 to 14 years. The 86th amendment of the Indian constitution made education a fundamental right under Article 21(A).
Realizing the need for education for the development of society, the government took the education sector as a priority. Government allocates funds for education in the annual budget. Infrastructure i.e. school buildings were built within the accessible distance in rural and urban areas.  The government made infrastructure available for children e.g. textbooks and uniforms.
Recruitment of para-teacher was another important policy that fulfilled the requirement of teachers at government schools. The scheme of Mid-day Meals (MDM) assisted in the increase of students' daily attendance and new enrollment. The MDM program also helped children in their health and improvement of nutrition indicators.
The SMC (School Management Committee) plays important role in the proper management of the primary, secondary, and high schools in both rural and urban areas. The committee looks after quality lecture delivery, increase of daily enrolment of students, sanitation facilities, and nutritive food for children. Both central and state government is accountable for the development of education and creating an educated society.
Special Provision in School Education
The Right to Education Act 2009 prohibits physical punishment and mental harassment of children. Students can take admission in school without any screening test. The act does not allow for a capitation fee. The government teacher can not teach like a private tutor. Teachers must be trained in the teaching field.
Educational Status of Women in India
According to the census of 2011 total literacy rate of India was 74% and the literacy of women was 65.46%. However, the literacy rate of women 54.16 % in the census of 2001. This is a good  
As we know education is the fundamental right for every child. Whereas girls in many parts are not given an option to attending in school. Education makes girls bold and empowered. Their education is a must in our patriarchal society.
There are many reasons for poor educational status for girl children. When it comes to a rural area, they don't find a girl worthy, so why waste money and time on them? The guardian from rural areas feels that a girl child has to be a housewife only. Since the birth of a girl child, parents feel themselves a heavy burden on them. It is because of the dowry system in our society. A poor family who can't even afford sufficient meals for two times, how can they get rid of such dowry burden. Henceforth, the family starts saving money since their birth keeping in mind marriage dowry instead of sending them to school and spend money on education. But, this is a shame on humanity.
The family from the groom's side should stop demanding huge dowry and should look for an educated girl. In this case, a girl's parents can educate her and thus our girl children would be educated followed by society.
The Government of India promotes girl child education through various policy that's need to be implemented properly and parents should follow that too. All girls children entitled to take free education till 8th class as accordance fundamental right of the Indian constitution.
For the awareness regarding the importance of girl education, the Prime Minister of India launched Beti Baccho, Beti Padhoao scheme. Some state governments provide an educational loan. Sukkanya Samridhi Yojna is specially dedicated to gild children for their education. Girl Education Program (GEP) focus on improving the condition of girls' education and provide technical support. GEP is committed to the implementation of education provision or policy for the right entitlement and empowerment of girls from marginalized sections of society.
Education is the most important sector for the overall development of a society and a country. Every person takes education into priority because an educated person creates an educated society.