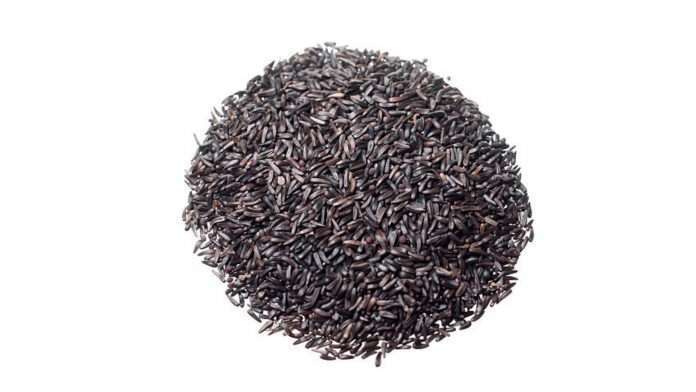 Alasi ladoos are a local savory among indigenous communities in the undivided Koraput district, Odisha. Children prefer these Alasi ladoos and are consumed during their breakfast. These are sold in the local shandies (haats). Niger oil also has diverse industrial use.
Niger (Guizotia abyssinica) also known as Alasi in Odia and Ramtil in Hindi, is an erect, stout, branched annual herb grown for its edible oil and seeds. It belongs to the same family as Sunflower – Asteraceae. Niger or Alasi as it is locally called in Koraput is an oilseed crop. Niger crops, more poetically called "Alasi" in Odia, literally means 'Lazy She". Winter brings miles and miles of golden yellow fields, Stretching horizon to horizon, like a golden carpet. It is edible and is one of the important commercial crops for the local tribal communities. The local indigenous communities get cash by selling the Alasi seeds in the haats. They use this precious cash component to buy their other household-level food items and salt, in the rather barter economy in the region.
Alasi is mainly cultivated in during the monsoon season on hill slopes. It is a winter crop that grows abundantly in all parts of India up to the Himalayas at a height of 6000 feet above sea level. The crop differs in color, shape, and size as per the area it is cultivated. Accordingly, Alasi can be found in red, white, yellow, and black varieties. The yellow Alasi flowers during winter months along the hill slopes of Koraput is a treat for the eyes. It can be grown on degraded soils and requires little water and care. Generally, niger seeds are broadcasted by local indigenous communities. However, line sowing gives a better yield. The average yield of Niger is 350 kg/hectare.
The plant is an average of 1.4m but can vary significantly as a result of environmental influences and heights of up to 2m. It grows on almost any soil as long as it is not coarse-textured or extremely heavy. It is usually sown in areas with rather poor soil or on heavy clay soil under poor cultural conditions. Niger tolerates waterlogged soils since it grows equally well on either drained soils or waterlogged clays. Niger is extremely resistant to poor oxygen supply in soil because of its ability to develop aerenchymas under these conditions.
Niger seed and its crude oil is widely used in traditional nutritional and medicinal applications. It is high in micronutrients like calcium, phosphorous, sodium, potassium, fibers and has antioxidant properties. They add important nutritional values to diets as they are, high-quality proteins as well as oil-soluble vitamins like vitamin A. The seed contains 37- 47% oil, which is pale yellow with a nutty taste and a pleasant odour. The oil is used for culinary purposes, anointing the body, manufacturing paints and soft soaps, and lighting and lubrication. The niger oil is a good absorbent of the fragrance of flowers it is used as a base oil by the perfume industry.
Inadequate intake of micronutrients is a major public health problem, especially in populations of developing countries in which pregnant women and children are affected. Since infants need the proper amount and type of micronutrients for their healthy body growth, they need special attention in supplementing with micronutrients. Oilseeds like Niger can be used as sources of micronutrients. It can combat malnourishment caused by micronutrient deficiency.
Read more:
Diseases and Pests
Niger is not affected by pests and diseases and can be grown with minimal care. However, niger blight (Alternaria sp.) and leaf spot are the most serious diseases. The other diseases include Alternaria leaf spot and Cercospora leaf spot, powdery mildew, and root rot disease. The pest populations include white flies and hairy caterpillars.
The medicinal use of Niger seed
Heart Health: Niger seed oil is quite more beneficial than other typical vegetable oils to improve cholesterol balance because this oil possesses high levels of omega-3 fatty acids and linoleic acid. This can help lower your chances of developing atherosclerosis, which can further prevent heart attacks and strokes. The anti-inflammatory effects of these healthy fats can also help lower blood pressure and generally reduce the strain on your cardiovascular system.
Reduces Inflammation: Niger seed oil consists of good amounts of antioxidants and anti-inflammatory compounds which make it popular for people struggling with arthritis, gout, rheumatism, fever, or high blood pressure. Antioxidants help to neutralize free radicals, which can cause oxidative stress. By its very definition, oxidative stress causes inflammation in the body, thus eliminating those free radicals is a great place to start.
Heals Wounds: Niger essential oil is highly nutritious as it consists of vital nutrients like niacin, oleic acid, carbohydrates, protein, fibers, stearic acid, riboflavin, and ascorbic acids which possess the good healing ability. Niger seed oil offers immediate relief from irritation caused due to wounds.
Immune System Booster: Niger seed oil consists of certain anti-parasitic and antioxidant qualities which are quite helpful whenever topically applied or consumed. If you wish to avoid several infections and strengthen the overall immune system, then use Niger seed oil on your skin for external infections, and consume it in your food for internal protection.
Good for Rheumatism: Niger seeds oil is quite beneficial for treating rheumatism and can give fast relief from it without causing any other side effects to its consumer's health. Niger seeds have exceptional medicinal properties that have the ability to heal complexion signs of rheumatism naturally.
Sleep Aid: Niger seed oil is the storehouse of Magnesium, potassium, and zinc which are some of the key minerals that can affect the hormonal levels in the body. These minerals help to calm Circadian rhythms and induce the release of certain neurotransmitters that the body needs for proper rest, mainly magnesium. If you are suffering from insomnia or chronic restlessness while sleeping, try to include some Niger seed oil and get benefited.
Give Relief from Cold and Flu: Niger seeds oil is extremely beneficial in giving protection to the body against cold and flu. In fact, regular massage of this oil extract on the chest, back, and other parts of the body gives relief against common symptoms of flu and cold.
Gastrointestinal Issues: Niger seed oil is quite comparable to rapeseed and sunflower oils, both of which can calm gastrointestinal problems like constipation, bloating, cramping, hemorrhoids, and general stomach upset. The oil can also help to coat the stomach and reduce inflammation, and also protect against any bad bacteria in the gut that may be compromising your immune system or preventing proper nutrient uptake.
Curbs Morning Sickness: Niger seeds oil has non-acidic stability that makes it a healthy oil to curb morning sickness. This oil also consists of a lower amount of unsaturated fats therefore there lowers uncommon symptoms like mood swings, stress, and hypertension.
Speed Healing: Niger seed oil is loaded with mineral and vitamin composition which makes it ideal for stimulating the healing and regrowth of cells and tissues. Protein, fiber, riboflavin, vitamin C and other carbohydrates compressed in this oil are essential for the healing process, so including this in your diet can do far more than help with your cholesterol issues. When recovering from an injury or surgery, one could consider switching to this oil for your culinary needs.
Protect the Skin: It is a good solution for scars, burns, rashes, or skin irritation, Niger seed oil is an excellent option. Antioxidants found in this oil help to encourage the healing process and calm inflammation. They can prevent infections in the skin by increasing the immune reactivity at the site of wounds or lacerations. Antioxidants also neutralize free radicals, which can reduce the appearance of wrinkles and age spots.
Weight Gain: Fatty acids and proteins found within this oil are perfect if you are trying to gain weight in a healthy way. Following an injury or illness, boosting weight gain is often desired, and the balance of omega-3s and other nutrients can encourage healthy weight gain for those patients or consumers. If you are not trying to gain weight, just use this oil in moderation, but you don't need to worry about this oil pumping excessive calories or "bad" cholesterol into your system.
Other Traditional uses and benefits of Niger seed
Niger oil is used for birth control and for the treatment of syphilis.
Niger sprouts mixed with garlic and honey are used to treat coughs.
Oil from the seeds is used in the treatment of rheumatism.
It is also applied to treat burns.
Paste of the seeds is applied as a poultice in the treatment of scabies.
Other Facts
Niger plant is consumed by sheep but not by cattle, to which only Niger silage can be fed.
Niger is also used as green manure for increasing soil organic matter.
Niger oil is used for cooking, lighting, anointing, painting, and cleaning of machinery.
Niger oil is a substitute for sesame oil for pharmaceutical purposes and can be used for soap-making.
After cooking oil needs are met, the Niger seed surplus in many countries is exported for bird food, mostly to the United States and Europe.
Niger oil cake is the main protein supplement for livestock in Ethiopia.
The residual seed cake after oil extraction has a high manurial value.
Straw is used as fuel for cooking.
A paste or gruel made from ground Niger seed, mixed with ground flaxseeds, is traditionally used in treating leather.
The way forward
Niger can be promoted in most rainfed agricultural cropping systems by adopting natural farming practices.
Niger ladoos can be supplied under the Integrated Child Development Scheme (ICDS) for children under 5 and pregnant and lactating mothers in the Anganwadis. They can also be supplied under other state food and nutritional security schemes to combat child malnutrition and anemia.
Conservation of these valuable resources in its natural habitat would be an appropriate approach for ensuring food and nutrition security for future generations.
Conventional plant breeders and biotechnologists should undertake scientific validation of Niger crops to make their value explicitly known. This knowledge could be utilized for crop improvement and bio-prospecting.
There is also scope for equitable sharing of benefits if used by the seed and pharmaceutical industries in the future.