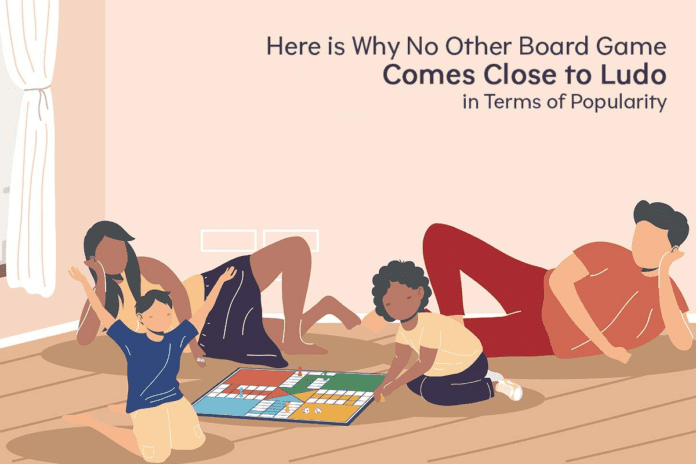 No other board games come close to ludo's vicinity in terms of popularity, recognition, or the love received from the masses. The game was created during the Late Victorian Times as a fun activity for children. However, thanks to its exceptional features, people of all ages indulge in ludo matches nowadays.
Ludo is a skill-based board game that requires players to follow specific tricks and strategies. Any individual who follows the right ludo game strategy and tactics has a very high chance of winning matches, even against the most skilled opponents.
It has been many centuries since ludo was introduced to the world in the form of Pachisi. Hundreds of years later, ludo still holds the crown for being the most-loved board game of all time.
Table of Contents
Here are some of the main reasons why ludo surpasses all its rivals in terms of popularity and receives crazy love from the masses:
It is Readily Available Anywhere, Anytime
Ludo is perhaps one of the, if not the most accessible, board games of all time. There are two primary ways in which enthusiasts can play ludo, i.e., via the orthodox offline mode or the modern online mode. In the case of the former, individuals require a physical ludo game board along with playing pieces or tokens and dice. Physical game boards are readily available everywhere, which makes it easier for people to play ludo.
Online iterations of ludo further enhance the board game's accessibility quotient. Thanks to the game's popularity, many online ludo games are readily available, using which individuals can indulge in ludo matches from practically anywhere at any time. All an individual needs to play ludo online is a reliable online ludo along with a stable Internet connection to get started.
Thanks to the easy accessibility of ludo, the classic board game becomes the primary choice of individuals when it comes to a fun and enjoyable activity that multiple people can enjoy together. Hence, it would be safe to say that easy accessibility is one of the main reasons for the popularity of ludo.
Simple to Understand, Simpler to Play
Another prominent reason why ludo enjoys immense popularity globally is that it features rules and regulations which even a child can understand effortlessly. Besides the rules, the gameplay of ludo is straightforward, which is what makes it the #1 choice of people of all ages when it comes to indulging in a fun activity.
The main objective of players in ludo games is to march all 4 of their playing pieces to their respective bases before their opponents. Players can move their playing pieces accordingly depending on the number they roll using the dice.
In most events, such as get-togethers, house parties, and similar intimate, domestic events, people choose to play ludo over other games, mainly because it is simple yet fun and offers people the opportunity to have a memorable time together.
Completely Age-Appropriate
Besides being fun and simple to play, ludo is very popular among the masses because it is very age-appropriate. There are numerous indoor games that are fun and easy to play. However, all of them are not suitable for people of all ages. Let us consider an example.
Dungeons and Dragons is a fantasy-based game that is very interesting and offers top-tier entertainment to players. Despite being enjoyable, the game is unsuitable for people of all ages, mainly because it features numerous inappropriate elements and instigates violence. This is why people of specific age groups are advised to abstain from it.
On the other hand, ludo is a simple yet interesting strategy-based game that features no unsuitable elements of any type. Hence, people of all ages, right from children to the elderly, love the game of ludo and prefer spending their idle time indulging in ludo matches.
Benefits Players in More Ways than One
When people hear the term "game" in any capacity, they assume that it is not beneficial to individuals in any way. This is a massive myth revolving around most games, including ludo. The reality is the opposite. Indulging in ludo frequently can benefit players in multiple ways.
For starters, playing ludo helps players to reduce anxiety and stress, both of which are very common among the masses these days. Besides this, the classic board game also allows players to enhance their brain functions and facilitates in triggering endorphins, which in simple words, are deemed a body's feel-good chemical. Moreover, the game also enhances the cognitive abilities of players.
Even though it is believed that no game can actually benefit players, it is not true. Ludo is a prime example that not all games are harmful. Due to the proven health benefits that ludo offers, people, especially children, are encouraged to play the game. Thus, this factor of the board game also contributes to its popularity.
Offers Individuals an Outlet to Socialize
In certain board games, players play matches very quietly. For instance, during chess matches, players remain quiet and make their moves, which limits their interaction to zero.
However, ludo offers players the perfect opportunity to indulge in friendly banter with other players. This aspect of the game makes it very light-hearted and enjoyable, which is why people love indulging in online and offline ludo games.
Ludo emerged as the most popular game during the COVID-19 lockdown. According to current statistics, ludo's popularity is surging exponentially after each passing day. Hence, it would be safe to say the game will remain evergreen for a long time. 
Also read: