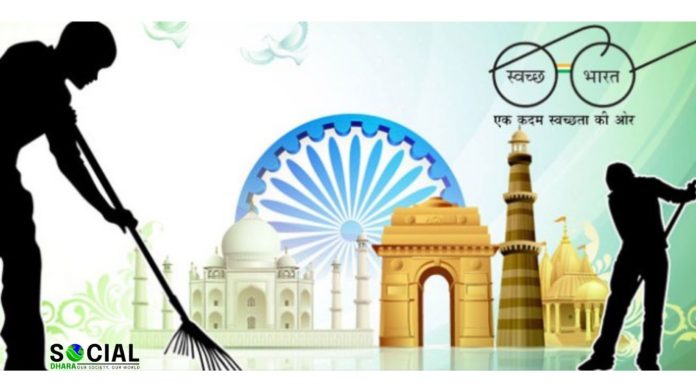 We all know that sanitation and cleanliness is important for our physical and mental health. Mahatma Gandhi dreamed of a clean and healthy India. Cleanliness is important whether it is our workplace, home, or public places. It is one of the necessary needs of a civilised lifestyle. Prime Minister Narendra Modi launched one of the greatest mission "Swachh Bharat Abhiyan" in 2014. It should be our duty that keeps our country clean and green.
Importance of Sanitation and Cleanliness
We can see how cleanliness can impact everyone's life, their body and their mind. Unfortunately, people do not understand this, that this is very important for every individual. We should pay attention to create and manage a hygienic environment.
Our Surroundings:
Our surroundings play a big role in our health and wellness. What does it like when you work in an environment where their surroundings are not clean? The surrounding should be clean and hygienic so you can breathe in the clean air. A clean surrounding leads to a healthy environment and a healthy mind.
A clean house represents the good health of people staying in that house. People cannot be healthy and happy in staying in a house full of dirt and junk, dump your dirt so it is important to have a clean house for living.
Also read: The Impact of Climate Change on Human Lives
Keeping your surroundings clean is not only good for you but is also beneficial for others.
The vibes of a dirty house are bizarre and infectious while contradicting to this a house that is clean and neat will give you a bundle of joy and positive vibes.
Public Places and Our Cities
As a responsible citizen of our society, this is our duty to keep our public places and cities clean and green. Keeping our public places clean goes a great way to keeping us and our citizens healthy.
Place dustbins everywhere so we can put garbage in them and make gardens and grounds clean. Plastic is bad for our environment and when we through it, it creates unbearable garbage so we can maintain a reusable bag instead of plastic bags which you can carry around with you.
Cleanliness and Health
One of the most effective ways we have to protect over selves and others from illness is good personal hygiene. This means washing your hands regularly, and mainly your body. It means being alert not to cough or sneeze on others.
These habits which are learnt or followed at a young age, teach children at home or school this will help them to grow good habits and keep themselves hygienic.
Cleanliness is not only for our physical health but also for our mental health. When your surrounding is clean your mind will feel alive. Maintaining cleanliness is an essential part of our healthy life.
Swachh Bharat Abhiyan
Swachh Bharat Abhiyan is the most impactful cleanliness campaign of the Government of India. India's current Prime Minister Narendra Modi led a cleanliness pledge from India Gate, which about thirty lakh government employees across the country joined.
While leading the mass motion for cleanliness, the prime minister urged people to fulfil Gandhiji's ambition of a clean and hygienic India. He gave the motto of "Na gandagi karenge, Na karne denge". By inviting people to participate in the drive, the Swachh Abhiyan has turned into a National Movement.
A sense of liability has been educed among the individual through the Clean India Movement. With citizens now becoming active participants in cleanliness activities across the nation, the dream of a 'Clean India' once seen by Mahatma Gandhi has begun to get a shape.
The Prime Minister has helped spread the message of Swachh Bharat "Clean India" by urging people through his words & action. Understanding the importance of sanitation, he has concomitantly addressed the health problems that roughly half of the Indians families have to deal with due to the absence of suitable toilets in their homes.
It will not be successful only by the efforts of the government, but for the success of this mission, the citizen has to make efforts too. This mission has received support from the beginning, who are making every effort to spread awareness about this mission at their level.
Goal of Swachh Bharat Abhiyan
According to the government, with the Swachh Bharat Abhiyan, the government of India not only wants to fulfil the goal of general cleanliness but also wants to solve the problems of waste management and the issues of open excretion because these issues are stops the country to move forward.
The major goals of this mission are the exclusion of open defecation, conversion of dirty toilets, manual scavenging, complete ejection and reuse of solid and liquid garbage. In this way, the country will be made totally clean.
If India becomes totally clean and green then it will have many benefits.
According to this, the maximum private investors will invest in our country, which will raise the GDP of India, besides increasing the number of tourists and increase employment.
Our PM has asked every citizen of the country to deliver 100 hours of cleanliness in a year so that the country can be made clean and beautiful.
Urban and Rural Areas
The Clean India mission for the urban areas aims to make about 1.05 crore households clean so that they can be provided 2.7 lakh public toilets, 2 lakh community toilets in every city. 
Community toilets are planned to be built in residential areas where the availability of individual household toilet is difficult and there are public toilets at designated places including bus stations, tourist spots, railway stations, markets, etc.
Rural Clean India Mission is a Mission to implement sanitation programs in rural areas. Once upon in time, the Nirmal Bharat Abhiyan was established by the Government of India to make rural areas clean but has now been reorganized into Swachh Bharat Abhiyan (Clean India Mission).
There is a huge plan to modify waste into bio-fertilizer and make it helpful in energy forms. This mission includes the participation of Gram Panchayat, Zilla Parishad and Panchayat Samiti.
Reasons behind the Mission
Many individuals in India expel in the open area, so this problem has to be solved and this Mission is necessary to provide toilet facilities in the house to all individual.
This is necessary to implement proper waste management through scientific processes, clean disposal, recycling and reuse of municipal solid waste.
This mission is necessary for the behavioural change lane among the Indian people.
Also, this Mission is needed to make our India clean and green.
It is necessary to improve the quality of life of people in rural areas.
Just as the inhabitant of India have been growingly participating in the Swachh Bharat Misson to make India clean and green, it can be said that soon the whole of India will be clean. But, we still have to keep trying to contribute to the cleanliness drive so that we can keep cleanliness as well as inspire others to do the same.
This Mission has had the effect that every person from every corner of the country is contributing in it, due to which the country is commencing to be clearer than before. If all citizen keeps making similar efforts, then the goal of complete clean India will be fulfilled soon.