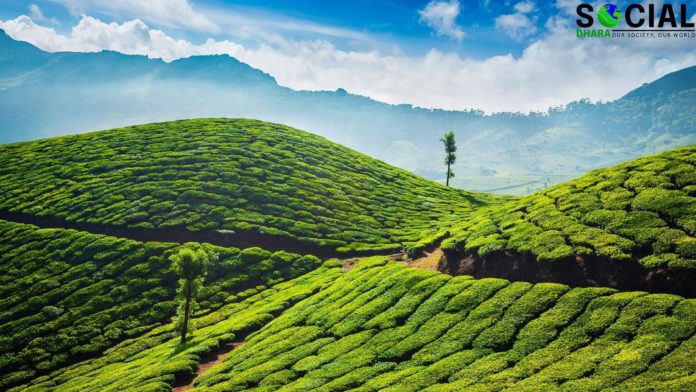 Munnar, a small town in the state of Kerala is lush green and peaceful. A hill station located on the Western Ghats at a height of 1600m above sea level, this place is the perfect combination of adventure and peace. Due to its beauty and everything that it offers as a tourist place, it has become very famous in the last few years. There are many lesser known facts about Munnar which we will see later in this piece. Right now, let's get to know the place a little bit better to ease your journey and stay!
The confluence of three rivers, gives this place its name "Munnar". Also known as the "Kashmir of South", Munnar provides picturesque views and green tea plantations adorably draping the mountains.
When generally the hill stations are visited in August-December, Munnar is actually visited throughout the year with the best visiting months being the summer beginning April-May, or the summer ending August-September.
This place is largely divided into four directions – Mattupatty, Thekkedy, Adimaly and Coimbatore with each direction offering one or the other thing to visit.
Anything that can be done in a Northern Indian hill station can be done at Munnar too and its ever-rising tourist population knows it well!
Some of the famous things a tourist can do in Munnar are:
1. Lakkam Waterfalls
Amidst dense jungle, hills, and other vegetations falls this waterfall in Munnar, Kerala. It is indeed a place for a nature-lover and an adventure-lover because it does provide both picturesque views and adventurous activities to do around. If we talk about nature, this place is splendid and mesmerizing, with the best thing about it being harmony. Adventure seekers often talk a lot about trekking here due to the thrill of what they might encounter in a forest as well as the enticing unknowns of the hills.
2. Vagavurai Valley
Many of you may already know how the name was derived from the tree Vaga. This ultimately scenic valley located at the borders of Lakkam Fall is a must-visit for some relief to the eyes. And when we say relief to the eyes, we actually mean it. Vaga trees have immensely red blooms on them that make this valley famous and romantic. Oh to be sitting with your beloved on a mat with red flowers and huge trees surrounding!
3. Eravikulam National Park
It is exciting to even begin to imagine what all creatures live in the lush dense forests of the South. A huge variety of flora and fauna may be discovered. This place is for the activists and the stake holders of the forest. It promotes conservation of environment and even its appreciation. Artists who love to sketch a handful could spend a day well in here.
4. Echo Point
Bollywood is the heart of India. Be it a wedding, a engagement or a birthday celebration, party remains incomplete without a Bollywood song being played. And what we see in our Bollywood movies, we find at our Munnar. Yes, you caught us. We are talking about the echo point for the lovers and kids and families! Shouting in the mountains and receiving that voice back is like 'The Ultimate Happiness'. When at echo point at Munnar, all your dreams are going to come true because you will be hearing your voice return to you. It is located 15km away from Munnar hill station, enroute the top station.
5. Top Station
No wonder it is called top station because it is the highest railway station located in the Kundala Valley. Falling on the border of Kerala-Tamil Nadu, it is the highest point in Munnar at 1700m above sea level.
6. Kerala Backwaters and Beach
If you do happen to travel to Kerala and do not do this, it is a shame. The beautiful backwaters of Kerala have lakes, lagoons, beaches and everything a popular beach place in India would present but with lesser population and more divinity. Parallel to the coast of Arabian Sea, these places give a sense of unending stretch of waters as well as land that reminds of home.
7. Anamudi Peak
Munnar also offers treks to the Anamudi peak located at an astounding 2695m above the sea level. This place is for the adventure seekers. Rock climbing is one of the most interesting things here. The rocky terrain puts forth a difficult yet mesmerizing and calm trek. And we all have heard, "The tougher the journey, all the more satisfying destination".
8. Mountain Biking
If you do not know how to ride a motorbike, have you ever wondered why? It's probably because of the busy city you live in. So much traffic! But even if you don't know how to ride a motorbike, this place has got you covered. Mountain bikes are specialized to run on hills and are four tyred. A few areas in Marayoor and Munnar lend motorbikes and cycles on rent for you to be able to enjoy the long stroll in nature without your feet hurting.
9. Boating
Can you imagine the serenity of boating in a valley lake? It's almost as tranquil as a diya on its full swing. But even if boating sounds too mainstream to you, how about a boathouse? Yes! One can also rent a boathouse in backwaters of Kerala. Now ain't that cool?
10. Mattupetty Dam
If you do happen to be an adventure seeker and go to Anamudi peak, here's what you cannot miss. This dam at the height of 1700m is close to the Anamudi Peak 13 km away from Munnar. It is as old as 60 years and yet standing tall with magnificent views. The ceaseless hills and bewitchingly wide spice and tea plantations are all visible from this spot.
And this isn't it! There is a lot more to explore in Munnar, but you don't want all the information on your devices right? Visiting it personally will definitely be much more exciting.
Coming back to how we were supposed to talk about lesser known facts of Munnar. So there are 2 facts about Munnar that very few people know and they sure are going to convince you more to visit this beautiful place.
Also read: Exploring Under-explored Rural Areas of India: An Imperative
A lesser known fact about it says that it used to be a getaway for the elite British in their time of colonizing India and you have to know it's good if it was used as an escape from all the chaos during that rough patch of time. It remained a secret spot since they did not want it to grab too much attention and become crowded and chatty like any usual hill station. It was their Heaven away from nuisance.
Another beautiful thing about this place is Strobilanthes kunthiana. Yes, you heard me! The neelakurinji flower. This is a blue-purple flower that grows on the hills on Munnar between June-October. But the fact to remember here is that it is a biennial flower and blooms only once in 12 years. It last happened in 2018 and if you want to see the whole mountains covered with soothing yet exciting blue-purple flowers, you got to wait till 2030 my friend!
It is impossible to explain in words, the beauty and wonders of Munnar. We still tried. But we really encourage you to go visit this exotic place before it gets cliché.
See you riding a bike in Munnar mate!*winks*