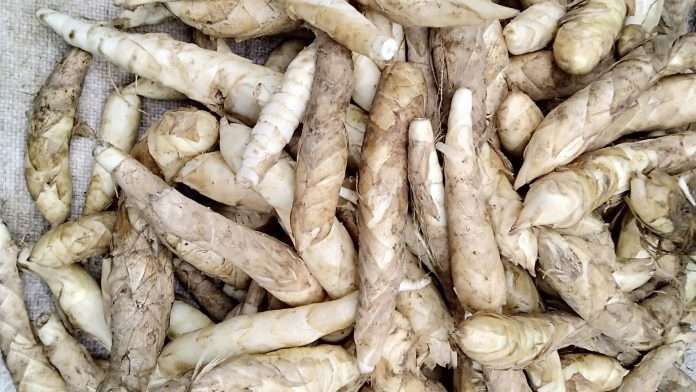 Palua is a wild edible tuber plant found in Odisha. Odisha is famous for Palua ladoo. Everyone who comes to here get a taste of this delightful sweets. Many of the Odisha's foods, sweets, curries are intertwined with religious festivals, culture and even distinctive food speciality. Palua ladoo is one of the sweetest desserts of Odisha originated from the district of Bhadrak. The Palua powder is sold in local shandies (haats) and is in great demand. However, the area under the wild tuber has reduced significantly in the forests over the last three decades, due to various reasons including extreme weather variabilities and climate change.
Consumption patterns of arrowroot
Indigenous communities collect the wild tubers from the forest and process it through an elaborate process before consumption. The rhizomes of the Palua plant are cleaned to remove soil and dirt, peeled, grated and soaked in water. The water turns milky white and strained to separate grated flakes of rhizome and was kept for 12 hours. Excess water is drained; again some water is added and left for 6 hours.
Finally, the excess water is drained out and the left over wet white dough is sun dried and crushed with hand to make fine powder. This starch is a white powder similar in appearance and texture to cornstarch. Near about 2 kg of rhizomes are required to prepare 250 gm of Palua powder. The same method is adopted for extraction of starch from both the herbs.
The arrowroot plant is very hardy and not very demanding in its requirements. The ideal growing conditions for optimal yields; deep, well drained, slightly acidic soils and a hot, humid climate. Some farmers produce the crop by shifting cultivation on the cleared forested slopes. The harvesting season extends from October to May. On the larger estates, the harvesting of the rhizome usually proceeds from the base of a hill towards the top. Harvesting involves breaking off the rhizome from the shoot. Planting and harvesting are inter-related in that when the rhizomes are harvested the shoot is replanted at the same time. Palua cultivation can be promoted by the Government under its various livelihoods support schemes and programmes.
Also read:
Uses of Arrowroot
Arrowroot as traditional food and beverages
Jhara Palua (arrowroot, tikhoor) is a lost recipe of Odisha. It is a traditionally healthy and delicious Odia sweet meal from South Odisha. It is prepared during the festive season like Hingula Jatra and Danda Nacha. It is a prepared from a combination of palua, jaggery, sugar and curd. Palua is previously soaked for half an hour to remove the stringent (Kasha) taste. It is then cooked with a pinch of salt by adding water to forma a semi-solid consistency and passed through a sieve over the sweetened curd. As the semi-solid palua (comes down) falls from the sieve as thick strings, it has got the name Jhara Palua.
Palua Pona is prepared mixed with yogurt and sugar and flavored by cardamom which actually acts a game changer in for the aroma. Palua Pana is one of the popular refreshing drinks of southern Odisha. It is mostly topped with bananas or grated coconut. Talking about its benefits, it is said to help with upset stomachs and cools down the body during summer.
Commercial use of arrowroot
Arrowroot is used as an article of diet in the form of biscuits, puddings, jellies, cakes, hot sauces, etc., and also with milk or veal broth, noodles in Korean and Vietnamese cuisine. In the Victorian era it was used, boiled with a little flavoring added, as an easily digestible food for children and people with dietary restrictions. Arrowroot makes clear, shimmering fruit gels and prevents ice crystals from forming in homemade ice cream. It can also be used as a thickener for acidic foods, such as Asian sweet and sour sauce.
It is invaluable in cooking when you wish to have a clear, thickened sauce, for example, a fruit sauce. It will not make the sauce go cloudy, as for example will cornstarch, flour or other starchy thickening agents. The lack of gluten in arrowroot flour makes it useful as a replacement for wheat flour for those with a gluten intolerance. It is, however, relatively high in carbohydrates and low in protein (approximately 7.7%) and does not provide a complete substitute for wheat flour in bread-making.
The lack of gluten in arrowroot flour makes it useful as a replacement for wheat flour in baking. Like other pure starches, however, arrowroot is almost pure carbohydrate and devoid of protein, thus it does not equal wheat flour nutritionally.
Arrowroot thickens at a lower temperature than does flour or cornstarch, is not weakened by acidic ingredients, has a more neutral taste, and is not affected by freezing. It doesn't mix well with dairy, forming a slimy mixture. It is recommended to mix arrowroot with a cool liquid before adding to a hot fluid. The mixture should be heated only until the mixture thickens and removed immediately to prevent the mixture from thinning. Overheating tends to break down arrowroot's thickening property. Substitute two teaspoons of arrowroot for one tablespoon of cornstarch, or one teaspoon of arrowroot for one tablespoon of wheat flour.
Medicinal use of arrowroot
East Indian Arrowroot is recognized as a medical herb. It is nutritive, and is used as an agreeable, non-irritating diet in certain chronic diseases, during convalescence from fevers, in irritations of the alimentary canal, pulmonary organs, or of the urinary apparatus, and is well suited for infants to supply the place of breast-milk, or for a short time after having weaned them. It may be given in the form of jelly, variously seasoned with sugar, lemon-juice, fruit jellies, essences, or aromatics. Its jelly has no peculiar taste, and is less liable to become acid in the stomach, and is generally preferred by young infants to all others.
In Odisha, Curcuma angustifolia or East Indian Arrowroot plant occur in wild forest in hilly districts where as Maranta arundinacea is found only in cultivation and its tuber is sold as a vegetable in the market. Arrowroot in Odisha is extracted from Curcuma angustifolia only.
About the Author:
Mr. Ravi Shankar Behera, PGDAEM, National Institute of Agricultural Extension Management (MANAGE), Hyderabad is an independent freelance Consultant and Author based in Bhubaneswar. He is an Honorary Advisor to grassroots Voluntary Organizations on Food Security, Forest and Environment, Natural Resource Management, Climate Change and Social Development issues. Ravi has lived and worked in various states of India and was associated with international donors and NGOs over the last twenty three years including ActionAid, DanChurchAid, Embassy of Sweden/Sida, Aide et Action, Sightsavers, UNICEF, Agragamee, DAPTA and Practical Action. He has a keen interest in indigenous communities and food policy issues.
Dr. Ranjit K. Sahu is an American laboratory and research specialist located in Virginia, USA. Dr. Ranjit is a freelance writer, artist, poet, and story writer. He has over 18 years of experience in Biotechnology and biomedical research. His interests include education, environment, sustainability, and health care systems and practices in the underprivileged regions of the world.